Read Smarter: A Reading Challenge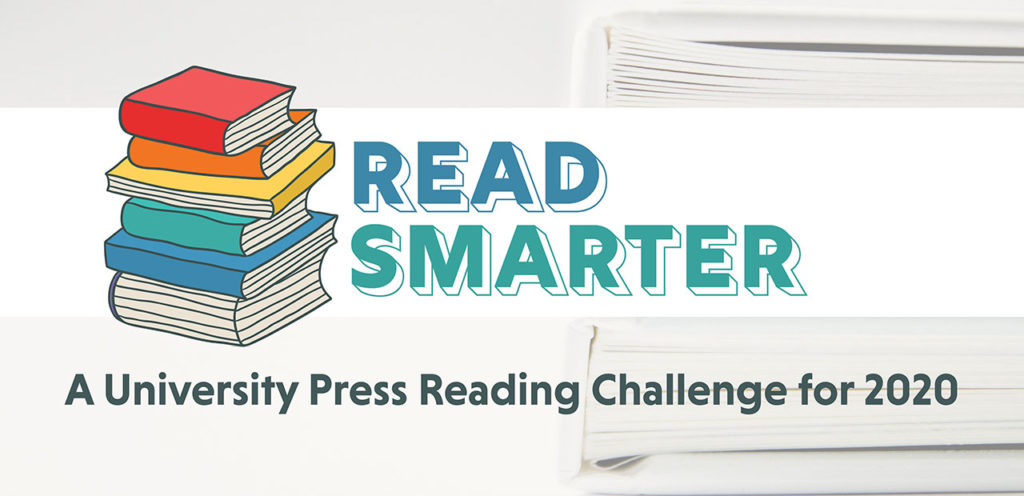 Savvy readers know there's more to publishing than the "Big 5." University presses, independent publishers, and small literary presses aren't constrained by market trends or corporate edicts. We can take risks on important work that might not make it to the New York Times Best Seller list, but has the potential to spark change.
To celebrate the unique and important contributions university presses make to the publishing landscape, we decided to come up with our own reading challenge!
Introducing Read Smarter, a reading challenge for 2020 designed to expand your reading horizons beyond mainstream publishing. Each of the twelve prompts (one for each month) focuses around a broad subject area that you may not have explored.
Read Smarter is a collaboration between Manchester University Press, MIT Press, University of Pittsburgh Press, Northwestern University Press, Syracuse University Press, University of Virginia Press, and Princeton University Press.
The rules are simple:

For each prompt, choose a title published by a university press.
Read the book, record it on your list, and check off the prompt!
Starting in December 2020, send a photo or pdf of your completed checklist to kthomas@upress.pitt.edu for 30% off at participating university presses!
Each month, university presses across the world will suggest titles from their lists that satisfy the prompts. Here at UPP, we'll compile these titles into a monthly blog post. (We'll link those posts here as we go along.)
If you're so inclined, share your reading adventures with us on social media using the hashtag #ReadSmarter.
Suggestions for Each Prompt:
Read smarter, not harder!