November 18, 2022
University Press Week: White Whale Books is #NextUP!
Today's blog prompt for University Press Weeks asks who's #NextUP in the world of bookselling. We love our local book stores, so we're featuring an interview Anna Weber, who is the events director at White Whale Bookstore, an indie bookstore in Pittsburgh.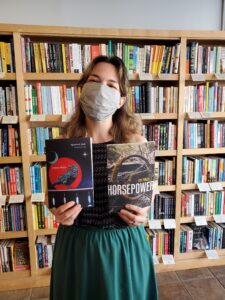 Q: Tell us a little about White Whale Bookstore and why you enjoy working there. 
A: White Whale Books is a family-owned, general interest, independent bookstore that focuses in particular on literary fiction and local writers. It's a space that, since day one, has always had a warm vibe, and has always encouraged curiosity, conversation, and connection. The staff is super enthusiastic about books in a way that isn't condescending or patronizing—one of the reasons I was so excited to apply to work here—and one of my favorite things is when customers organically recommend one another books as they browse and overhear snippets of book talk. 
Q: Tell us about your role at White Whale. What does a typical day look like for you? 
A: I'm the events director, which means I get to work with local writers on a near-daily basis, and that, to be honest, is my favorite part about working in the store. The local literary community is huge, strong, passionate, and supportive, and I consider it an honor to get to celebrate the work of Pittsburgh writers. My days are wildly different from one another! Sometimes I might dedicate eight hours just to emailing and marketing, and sometimes I might spend all day at an off-site event. I'm also responsible for putting new books on the floor on Tuesdays and making sure our display tables are neat (and attractive!). 
Q: How do university press titles fit into the collection at WW? 
A: University press titles show up the most in our local and regional sections. Not only do a lot of our favorite yinzer, Appalachian, and Rust Belt writers publish with university presses, we're blessed to be close to a lot of great regional presses! University of Pittsburgh Press and West Virginia University Press are just a few that show up regularly in those areas of the store. And there's so much good poetry published by university presses, too! 
Q: Besides stocking their books, what are other ways that you work with university presses? 
We love doing events with these presses! Pitt Press and WVU Press will often reach out to do seasonal launch readings for two or more of the writers in their most recent catalog, and those are always so much fun—people from the press as well as the writers' friends and family show up.
Q. Do you have a section dedicated to UP titles? 
We don't have a specific UP section, but they show up the most in poetry, nature, nonfiction, and local/regional interest.
Q: What are some of your favorite university press titles? 
The Secret Lives of Church Ladies by Deesha Philyaw and Another Appalachia by Neema Avashia (both WVU Press) are two of our all-time bestsellers! Kaufmann's by Marylynne Pitz and Laura Malt Schneiderman (UPP) is a recent title that's been flying off our shelves. Gumbo Ya Ya by Aurielle Marie (UPP) is a big staff (and customer) favorite, too. And all of both Ross Gay's and Toi Derricotte's poetry (published by UPP) is beloved to us.